It's been Spring in Vancouver for a while now…it's so beautiful and alive!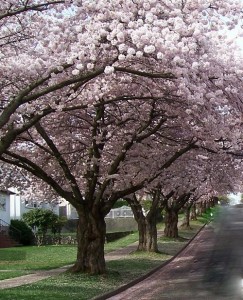 One of the reasons I love living here is because each of the seasons are very distinct. The cherry blossom trees were just in full bloom…an incredible sight to see. The warm, radiant sunshine is pouring through my windows, the grass is growing again, the birds are cheerfully singing in the maple tree in my back yard and I was outside all day yesterday preparing my vegetable garden. Wherever you live, I hope that you are feeling the vibrant energy of Spring.
Spring is the time of year when we are all being drawn up and out of the darkness of winter and pushed into the lightness and brightness of a new energy. That sensation of being drawn up and out into the light is the gift that Spring gives us each year, whether we are aware of it or not.
It's easier for us to clear away the old habits, to push past our comfort zones, and grow during this time of year.
What will you use the bursting Spring energy towards?
What would you love to be doing?
What excites you and challenges you?
What is your path that fills you with the most light?
What seeds are you planting right now?
Whatever you are thinking about right now is what you will be bringing about in your near future.
Your Thoughts Become Your Words
Your Words Become Your Actions
Your Actions Become Your Results
What ideas are already coming to you as you're reading this? Write them down and take action!
If you could use some help finding and following your path and utilizing this Spring energy, please contact me now.