I've just found out my air date for my episode of CBC's Dragon's Den.
My pitch will be airing on Wednesday, November 3rd, 2010 at 8:00 PM (8:30 PM in NFLD) on CBC Television.
🙂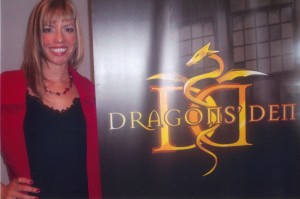 I feel SO privileged that I was selected out of THOUSANDS of entrepreneurs!! And WOW, let me tell you, that experience was the ULTIMATE test in my confidence!!!
I went there by myself and was was the only one there that did. And for the first time in my life, I got some kind of crazy infection on my chin, on the inside AND the outside of my chin. So, during my audition I had an awful, VERY swollen chin with a big, huge sore on it. Yucky!
Despite my nasty chin I wasn't nervous — until I entered the Dragoon's Den and started walking down the steep steps in my stilettos, and carrying my big display board, and a big purse full of high heels and my DVDs. The CBC studios are massive, and while I walked across the cold concrete floor, with blindingly bright spotlights shining in my eyes, the rhythmic click, clack, click, clack of my stilettos with every step I took, was echoing loudly, like some sort of like morris code letting everyone know I had arrived. It wasn't until then that suddenly my nerves kicked it. WOAH -I'm really here, and I'm really doing it! It was such a powerful experience.
In just one year my High Heel Appeal business has skyrocketed. The big goals I set for myself were being achieved and my dreams were coming true. And it's only just the beginning 🙂
I went to The Dragon's Den with 3 goals.
1) To gain investors
2) To gain the exposure for my business
3) To show people that having confidence can get you anywhere you want to be. I'm living my principles that I teach my clients and students.
I not only teach confidence, I live it!
I signed a confidentiality agreement, so I can't talk about what happened, but after my pitch one of the producers told me that my pitch will definitely be aired! 🙂 So be sure to tune in on November 3rd.
In the meantime, here are some pics of the adventure. The picture of me with the martini glass is SO funny…I was out for dinner at Young & Dundas Square, at Milestones right after the filming, to celebrate the experience and the strangest/coolest thing…I ordered a blackberry martini and it came out with little high heels as a garnish!! WOAH –so cool! If that's not a good sign, I don't know what else is!