It's Halloween ladies here a few tips for a Happy, Confident Halloween!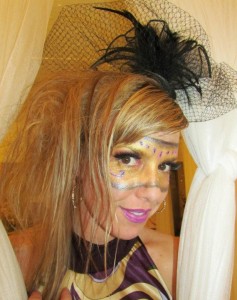 Visualize the confident you.
To achieve what you want in life, you have to believe it. I mean, REALLY believe it. If you can visualize yourself doing something you wish you could do, you are more likely to make it your reality because you'll have confidence in your ability to succeed. The idea is to have these images or events taking place in your mind in vivid 3D with rich colors, like a dream, or as real as watching T.V. or a movie. The clearer the visualizations you have, the more likely you are to achieve the results you desire. When fearful or distracting images appear, re-focus on those positive images that evoke feelings of happiness and fulfillment.
Be authentic.

Be warm, genuine and personable. These personality traits are a must when building confidence. If you are fake, other people are likely to sense this and may not be interested in meeting you or may reject you.
Do something today that scares you.
When we step outside of our comfort zone and take risks, we force ourselves to learn and grow.Fear robs us of our happiness and fulfillment. Be aware of of your old habits and be conscious and deliberate about stepping outside of your comfort zone.